I know it has taken me a while to get around to this review, so apologies for that.
Anyway, Soul Calibur V!
It's the latest instalment of the popular Fighting Series where characters beat the living tar out of people with various different weapons. This in itself makes it different from your Tekkens or your Dead or Alives. That's probably why it's the only fighting game I'll ever really get into, mainly because hitting something very hard with an oversized axe just seems more fun.
Before I go any further, I'll point out one thing. I am TERRIBLE at fighting games. I'm a button masher or, if I find a move that looks good, I'll repeat it until my opponent counters it and I get bashed into a pulp. I also don't play at the ferocious pace you see in Street Fighter games as my eyes don't work that fast.
With this in mind, I decided to try out the story mode – not expecting to make much progress. You play as the new characters, Patroklos and Pyrrah as you make your way through a rather weak storyline. If I'm honest, I'm glad the story mode is quite short – I find some of the characters in this really irritating, particularly the two you play as. So it was a case of grin and bear it and get it over with! Still, in terms of progression, the skill level required goes from easy to more difficult in a nice arc, so by the time I finished it I had an idea of how to play it.
After this I had a go on the Arcade Modes, which were much better for me as I got to pick my own character. I say "Pick My Own" I accidentally pressed Random, so I played through as some girl armed with a sharpened Hula Hoop. Anyway, throughout the Arcade, I battle past various enemies who got more difficult as I progressed through the various stages. On the 6th and final stage, I had to fight Nightmare (that guy below) armed with his massively oversize sword. I attempted that bloody stage about 20 times and could not for the life of me beat him. I have never been so angry at a game before! Particularly because after giving up with Hula Hoop, I had a go with Samurai Mitsurugi and managed to beat him after only 2 attempts. No idea what went wrong, but in comparison with the other opponents in Arcade, this Nightmare chap was pretty much invincible.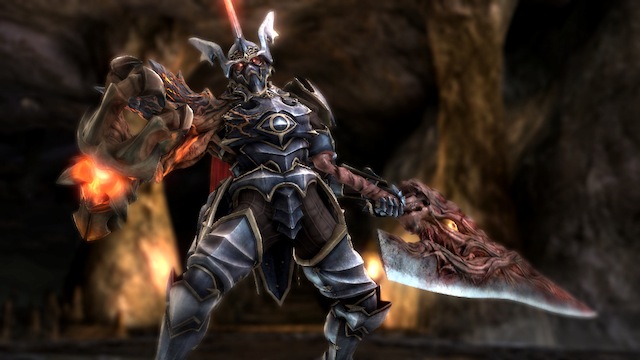 Most Hated: This man his caused me so much anger!
When I'd chilled out a bit after the Arcade Fiasco, I decided to have a mess around creating various characters. As editors go, it's not the most advanced thing out there, as you only get a series of presets to choose from, as opposed to the ability to sculpt yourself. However, I did manage to create a very large Sumo Wrestler type person (who had to be armed with a weapon, so I gave him an axe). There are a few bits of costume to choose from, and more is unlocked the more you play.
Graphically, the game isn't that bad. The stages you play on are look good, and the character animations are quite smooth. The characters are modelled quite well and range from the unsurprisingly scantily clad to the surprisingly normal (which is suspicious in itself) and some of the armour you can equip your character with looks pretty good to. However, there are some issues – mainly with the creation aspect. When you are assigning bits of clothing to your character, the costumes don't seem to stack up right. Wait, that doesn't explain anything. I'll give you the scenario. If you're trying to give your character a cloak without a T-Shirt or a Jacket underneath it seems to hover unattached to the body. It'd technically be in the right place if your character had the other layers on, but if you don't then it looks strange. Similarly bit of costume stick out through other bits, so you can't stack up a lot of armour without noticing it.
I know it's a minor thing, and when you're prancing around the area trying to batter someone with some sort of weapon, you aren't going to be looking at whether your cape looks nice or not. Still, it's the little things that build up.
Ezio looking like he's going to stab Annoying Fidgety Nunchuk Man (Maxi)
The sound isn't too bad either. While it doesn't stand out as an amazing piece of audio genius, it is not ear-bleedingly painful either. You get the stereotypical one-liners from all of the combatants which can be irritating from some of them, but thankfully not all. The music isn't too bad either although sometimes the tracks (which are given the names like Wonderful Forest or something) don't seem to fit into the environment of the arenas. Again, though – you don't notice these things when focussing on fighting.
Overall it's an alright game – pretty good for the fighting enthusiast, I would imagine. However for a casual gamer it can be the most frustrating game in the world. I've been the angriest at gaming while playing this and even the presence of Ezio Auditore (from Assassin's Creed) in the line-up doesn't really do much to make me like the game much more. I'll still play it, though. It's the sort of game you can play for a few rounds, batter someone (or attempt to) and then put it down again at any given time. For this reason alone it'll have longevity – particularly because it's not another shooter or sports game (which seems to be the bulk of my current games collection).
My advice: don't pick it up. You've got SSX and Mass Effect 3 coming out soon, both of which promise more than Soul Calibur V did (in my opinion). It's a nice game to have to fill in the time between releases, but not a great standalone game.
Overall: 4/10
Highlights:
+ Ezio is in it!
+ You get to beat people up in over the top manner with oversized weaponry.
Lowlights:
- Unlikeable Characters/Storyline
- Frustratingly Difficult at times
- Doesn't have the lasting appeal of a long campaign, or career mode.